TULSA, Okla. — Quick Facts:
Storms left behind damage in Tulsa Sunday morning.
City officials say around 150 businesses were damaged and 12 were condemned
An EF2 tornado touched down in the area after 1 a.m., according to the NWS.
NWS confirmed three other tornadoes
Due to extensive damage, 41st Street from Yale to Sheridan will remain closed overnight Sunday, and drivers are asked to avoid the area Monday morning.
Scroll through the videos above to see updates from damaged areas across Green Country.
Powerful storms damaged multiple businesses in midtown Tulsa early Sunday morning, bringing an EF2 tornado through the area.
12:50pm - Survey team confirms tornado damage across central Tulsa. EF2 intensity also confirmed. Survey continues.

— NWS Tulsa (@NWStulsa) August 6, 2017
Some of the heaviest damage was reported in the area of 41st and I-44 where buildings lost portions of the roof and signs were torn down. At least 12 of the 152 damaged businesses were condemned after inspectors toured the area.
I-44 was closed for a short period of time at Sheridan due to a fallen sign on the road way. It closed again around 7:30 after crews said PSO requested lanes be shut down after the storm damaged utility poles.
Interactive look at the path of the storm:
GALLERY: Storm Damage Pictures
St. Francis Hospital reported 26 patients came into the emergency room with minor storm related injuries. EMSA says they transported an additional 13 people to the hospital after they were injured in area restaurants when the storm hit.
FOX23 received video from a viewer who was in an area TGI Friday's restaurant when the tornado swept through the area.
Cell phone video from inside TGI Friday's captures the moments when an EF2 tornado swept through midtown Tulsa. LISTEN for reaction from those affected when the storm hit. A look at the scene more than a day later on FOX23 News at 5. http://bit.ly/2vBW1RO

Posted by FOX23 News on Monday, August 7, 2017
A woman in the restaurant when the tornado hit was hospitalized for injuries she received during the storm, receiving 100 stitches. Her son suffered a cut on his hand.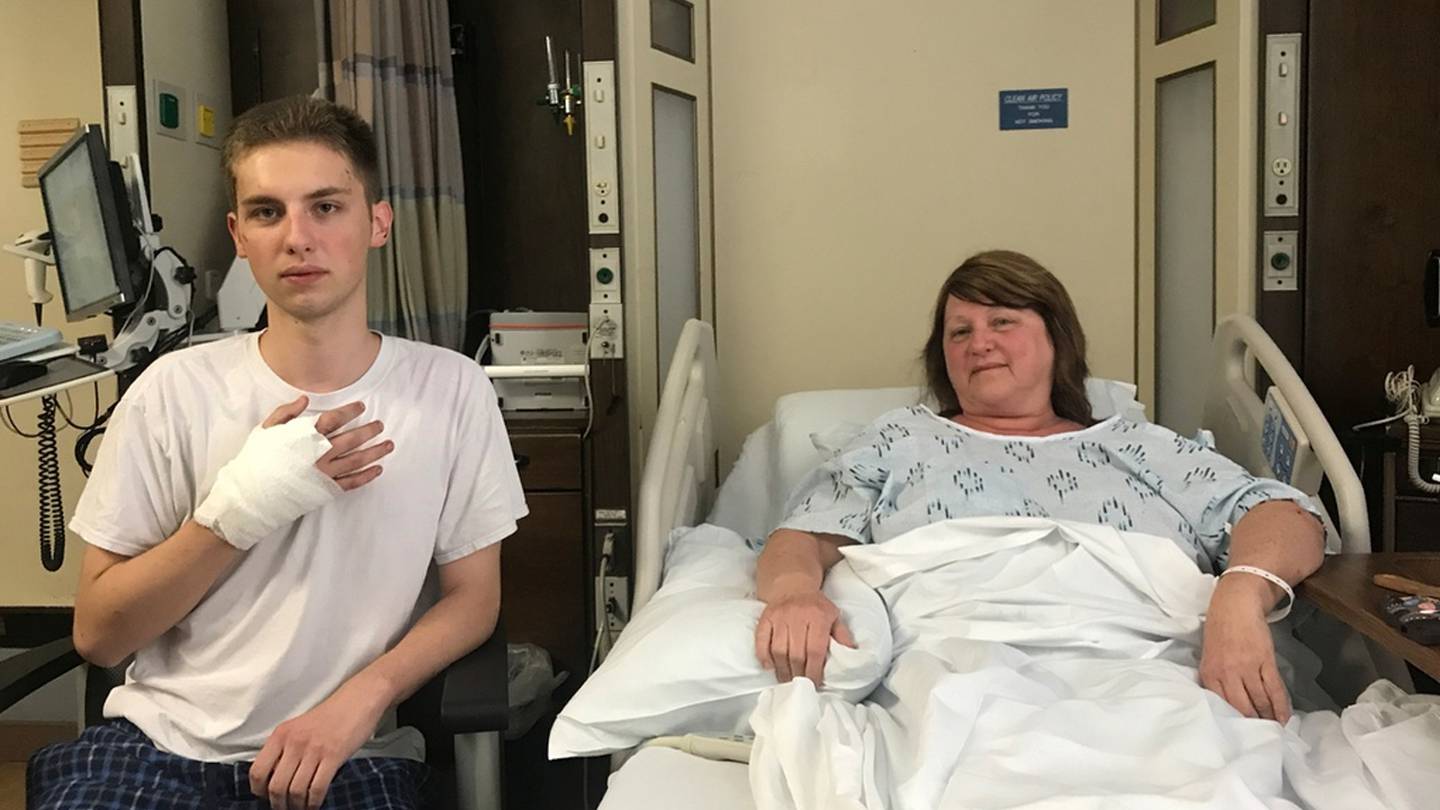 FOX23 talked to another woman who was injured during the storm and found that she and her 10-year-old son were both hospitalized.
City officials say 25 homes were damaged, and one of those homes was destroyed.
FOX23 got a look inside a home where the homeowner says a branch broke through his ceiling.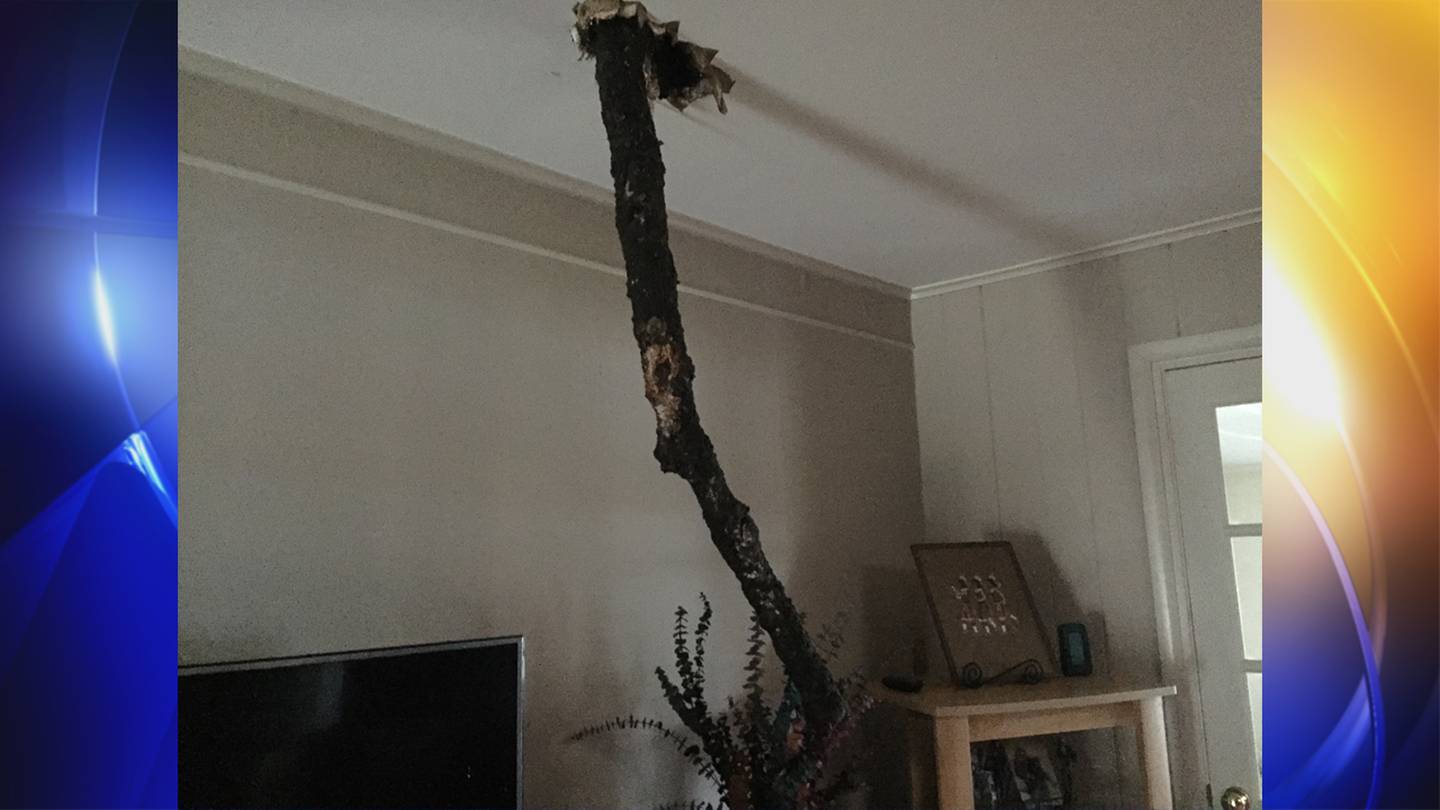 More than 15,000 customers reportedly lost power in Tulsa.
WATCH: FOX23's Jackie DelPilar was able to get a look at damage throughout the area on Sunday afternoon.
Bishop Kelley officials surveyed damage at the school. They postponed all Monday activities and held them Tuesday. FOX23 got a look at storm footage from their surveillance cameras.
Whataburger shared a statement about how they planned to help the employees now displaced:
"Our hearts go out to those in Tulsa affected by the recent tornado. Regarding Family Members who work at our restaurant affected by the tornado at 5726 E. 41st Street, as well as customers who were visiting, we're pleased to report they're all safe and accounted for. Luckily, only minor injuries were reported. Whataburger has a Family Foundation set up to help our employees, known as Family Members, which provides financial support in emergency situations.  We're assessing the damage to the restaurant affected and we'll work with Family Members to transfer them to nearby restaurants until that location is operating again. We encourage fans and customers to stay tuned on social media for additional updates." – Whataburger Corporate Communications
Mayor G.T. Bynum released a statement on Facebook thanking the city's first responders and offering information for those wishing to help with cleanup efforts:
Police say there is no access to businesses near 41st from Yale to Sheridan, as power lines and other debris in the area are considered very dangerous. The city closed 41st through 51st streets between Memorial and Sheridan and 41st from Yale to Sheridan. They reopened Yale and Sheridan to traffic at 41st Street Monday.
WATCH: City officials gave updates on damage and the situation in midtown Tulsa Sunday afternoon
EF2 Tornado Rips Through Tulsa

City officials are discussing the damage left behind after an EF2 tornado tore through midtown Tulsa early Sunday morning. http://bit.ly/2vBW1RO

Posted by FOX23 News on Sunday, August 6, 2017
Traffic lights were out at 41st and Yale, 41st and Hudson and 46th and Memorial.
Crews on the scene confirmed a gas leak behind the nearby Jimmy Johns Sunday morning, but they were able to shut off gas in the area.
The midtown PetSmart location moved cats, reptiles, birds and other animals to another location in order to keep them safe after the storm.
The Reasor's near 41st and Yale reopened Monday afternoon.
Community Care College will not hold classes on campus until further notice. Students will continue study on the school's virtual platform, with support from other branch campuses, including Oklahoma Technical College and Clary Sage College. Students are advised to communicate with their instructors and to follow the latest updates on the college's Facebook page and student portal. 
Area businesses affected by the tornado will remain closed until they complete and pass inspection with permitted structural engineers.
Several area businesses were condemned Monday.
Senator James Lankford's Tulsa office was one of several offices located in the heavily damaged Remington tower.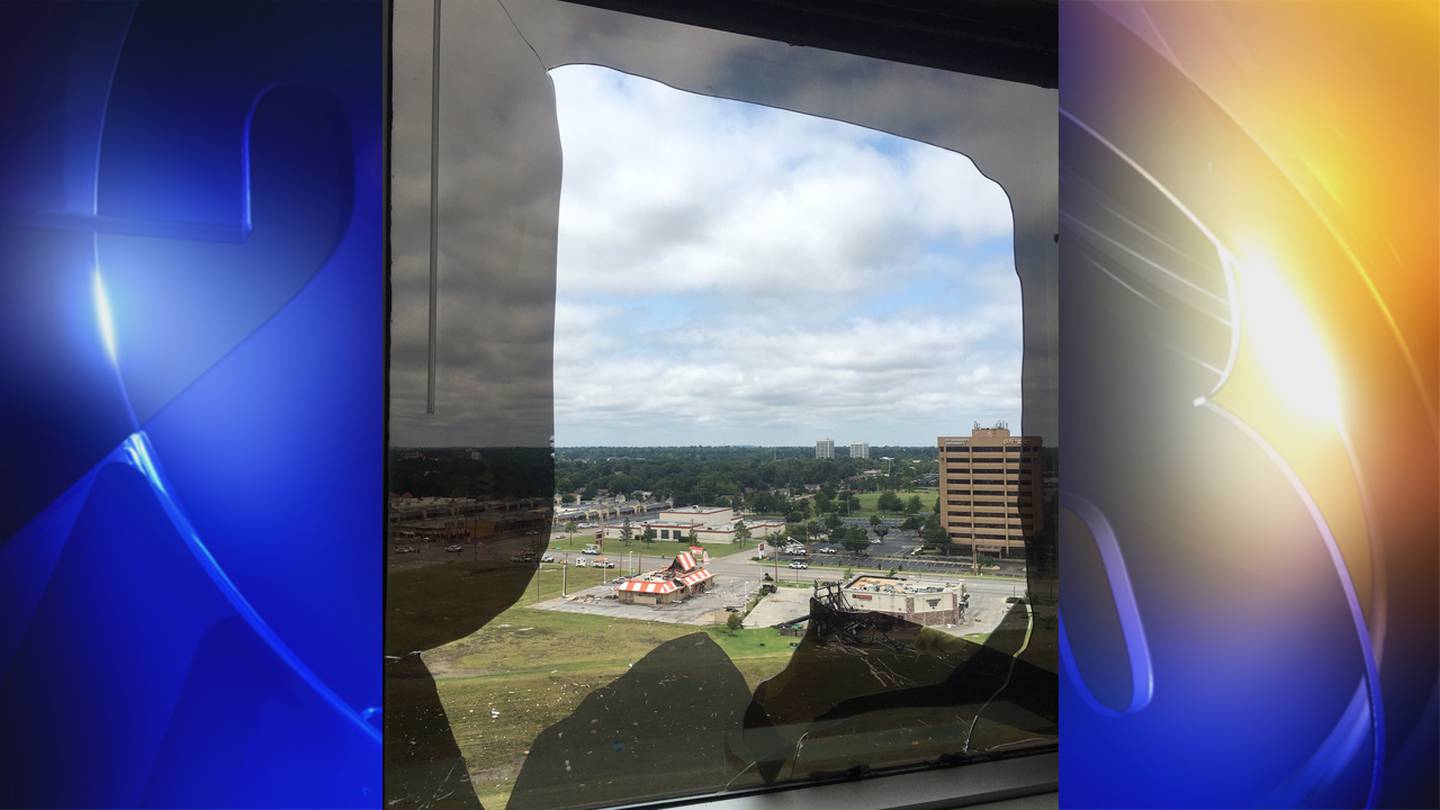 Lankford released a statement Sunday.
"I'm grateful that it doesn't appear that last night's tornado in northeast Oklahoma caused any fatalities. We pray for the many who are impacted, including those in the hospital and the many who still don't have power. My team has been monitoring the damage since late last night, and it's encouraging to see so many neighbors help each other and demonstrate what it means to be "Oklahoma Strong." As some of you know, the Remington Tower, where my office is located, suffered a lot of damage. Because of this, our Tulsa office will be closed for several days, but our team will be able to continue to serve all Oklahomans based out of our OKC office."
Remington Tower officials also released a statement:
"Our NAI Rupe Helmer team is busy surveying the damage to Remington Tower. We are meeting with the appropriate officials and doing everything we can to get back in working order as soon as humanly possible. We understand that businesses are displaced and we want to resolve that situation as quickly and safely as we can."
The city's Greenwaste site will be open until 8 p.m. Sunday and Monday, and scheduled bulky waste pick-ups will continue Monday.
U-Haul is offering 30 days of free self-storage to residents in the Tulsa area who were affected by the storms Sunday.
City officials say crews are removing downed trees from roadways, starting at 41st and Harvard and moving east. Local groups say they are assisting with cleanup.
Storm damage reached outside midtown and into east Tulsa, where a local dealership faced damage.
UPDATE: FOX23 Chief Meteorologist James Aydelott confirms that tornado. Probably hit this area around 1:15am. We will know later if it's EF1 or EF2. Car dealership damage from Tulsa tornado 46th and Memorial

Posted by FOX23 Sara Whaley on Sunday, August 6, 2017
Some area residents say they didn't hear any sirens when the tornado touched down.
A spokesperson from the city of Tulsa explained why the city did not activate sirens Sunday morning:
"The National Weather Service issued a tornado warning at 1:25 a.m. This particular storm spun up at such a quick rate between scans of the radar and by the time the NWS issued the warning the storm was crossing into Broken Arrow jurisdiction at a high rate of speed. At this point, Tulsa did not activate the sirens because the NWS said the storm cell had moved into Broken Arrow. The TAEMA director called BA emergency management director and insured they had they same information so they could activate the BA sirens."
Tornado sirens sounded in Broken Arrow when a Tornado Warning was issued at 1:25 a.m.
Residents are urged to use a secondary notification service, as the sirens aren't meant to be relied on indoors. You can download the FOX23 Weather App for alerts sent straight to your phone.
Anyone wanting to offer donations and assistance can contact the American Red Cross at 918-831-1109.
Tulsa police are warning residents to be cautious of people assessing damage that do not represent their home insurance company. They say fraudulent activities rise following a natural disaster.
Residents are encouraged to contact their insurance company for damages and not provide financial or personal information to individuals coming door-to-door.
Police will stay in the area for safety and security until things stabilize.
Trending Stories on FOX23.com
Trending Video
VIDEO: FOX23 SkyView Drone captures damage left behind after Sunday morning storm
Cox Media Group