TULSA, Okla. — Quick facts:
A group released a list of what they call dangerous toys.
Toy manufacturers are responding to the claims.
World Against Toys Causing Harm released a list of "10 Worst Toys of 2017" last week, and now some of the companies behind the toys are responding.
FOX23 told you previously about this year's top 10:
Hallmark "Itty Bitty's Baby Stacking Toy for a potential choking injury
Pull Along Pony for potential strangulation and entanglement injuries
Wonder Woman Battle Action Sword for potential blunt force injuries
Hand Fidgetz Spinners for potential choking injuries
Spider-Man Spider-Drone Official Movie Edition for potential eye and body impact injuries
Nerf Zombie Strike Deadbolt Crossbow for potential eye injuries
Slackers Slackline Classic Series Kit for potential strangulation and fall-related injuries
Oval Xylophone for potential ingestion and choking injuries
Jetts Heel Wheels for potential blunt impact and fire related burn injuries
Brianna Babydoll for potential choking injuries
FOX23 reached out to the companies behind each of the toys, and some of them responded, defending their products.
The executive manager of Tolo Toys released a statement and provided both American and European testing certifications:
"Our Pull Along Pony does not fall under the The American Society for Testing and Materials (ASTM) classification of playpens or a crib toys. It is classed as a pull along toy and therefore is covered by the following American and also European standards.
"ASTM 4.14.3
"Pull Toys – Cords, straps, and elastics greater than 12 in. (300 mm) long for pull toys intended for children under 36 months of age shall not be provided with beads or other attachments that could tangle to form a loop.
"EN 71-1:2011 (E)
"5.4h Cords and Chains with a free end (i.e. with no attachments) on pull-along toys intended for children under 36 months shall have a free length not exceeding 800mm when measured according to 8.40 (length of cords, chains and electric cables)
"All Tolo Toys are designed with safety in mind and are subsequently tested to ASTM, EN71, CPSIA standards. This ensures that all parents can rest assured that Tolo Toys are safe for their children. Please see attached copies of the relevent tests recently conducted on this product.
"The Pull Along Pony was first introduced into the market, across the world,  in 2004. During its history it received an award from  "Kids Out Good Toy Guide"and   recommendation from"Practical  Parenting". At no point during its lifetime have any issues been raised regarding safety.
"Tolo Toys would be happy to engage directly with W.A.T.C.H. to hear their views on how they arrived at their conclusion."
Mattel, the maker of the Wonder Woman Battle-Action Sword, reiterated that safety is a priority for the company in a statement:
"Safety is our top priority, and every Mattel toy is safe when used as intended. As with all toys, we encourage parents to carefully supervise and monitor kids as they engage in play, and to model safe and responsible behavior."
A Hasbro representative said their Nerf Zombie Strike Deadbolt Crossbow was subjected to more than 100 rigorous safety tests and standards:
"By law, all toys sold in the United States must meet 100+ rigorous safety tests and standards and be certified compliant by a federally approved testing lab before being offered for sale. On the other hand, W.A.T.C.H. does not test the toys in its report to check their safety; their allegations appear to be based on their misrepresentation or misunderstanding of the mandatory toy standards. And in some cases, they call certain items "toys" when they are not.
"Unable to find product defects on the market as a result of these strict U.S. toy standards and test requirements, W.A.T.C.H. tends to focus on products with safety instructions and warnings, as if responsibly providing safety information to consumers is somehow an indication that a product cannot be safe for use or for sale, when the opposite is true. 
"Each year, we find these lists by W.A.T.C.H. to be needlessly frightening to parents; each year these allegations do not stand up to scrutiny when reviewed by the U.S. Consumer Product Safety Commission. Safety issues are not uncovered by the group's "gotcha" reporting.  But W.A.T.C.H. keeps at it for the media attention it brings to their organization at this time of year. 
"Toymakers and The Toy Association are committed to toy safety year-round. These efforts include providing useful tips for families and caregivers to help them choose age-appropriate toys and ensure safe play.  For reliable information on toy safety, families can visit www.PlaySafe.org, The Toy Association's free, year-round resource for parents and caregivers."
B4Adventure, the maker of the Slackers Slackline Classic Series Kit, said that their toy comes with warnings about potential hazards, and claims they've never had any strangulation issues:
"Most toys have to state on packaging: warnings from strangulation hazards, to small parts choking hazard, maximum weight issue, Parent supervision, etc. These are a standards in the toy industry. Surprisingly we have never never had a strangulation issue on our Slackline kit. Some writer picked this up this warning without any research."
Plan Toys also released a statement and included proof of safety standard compliance concerning the Oval Xylophone: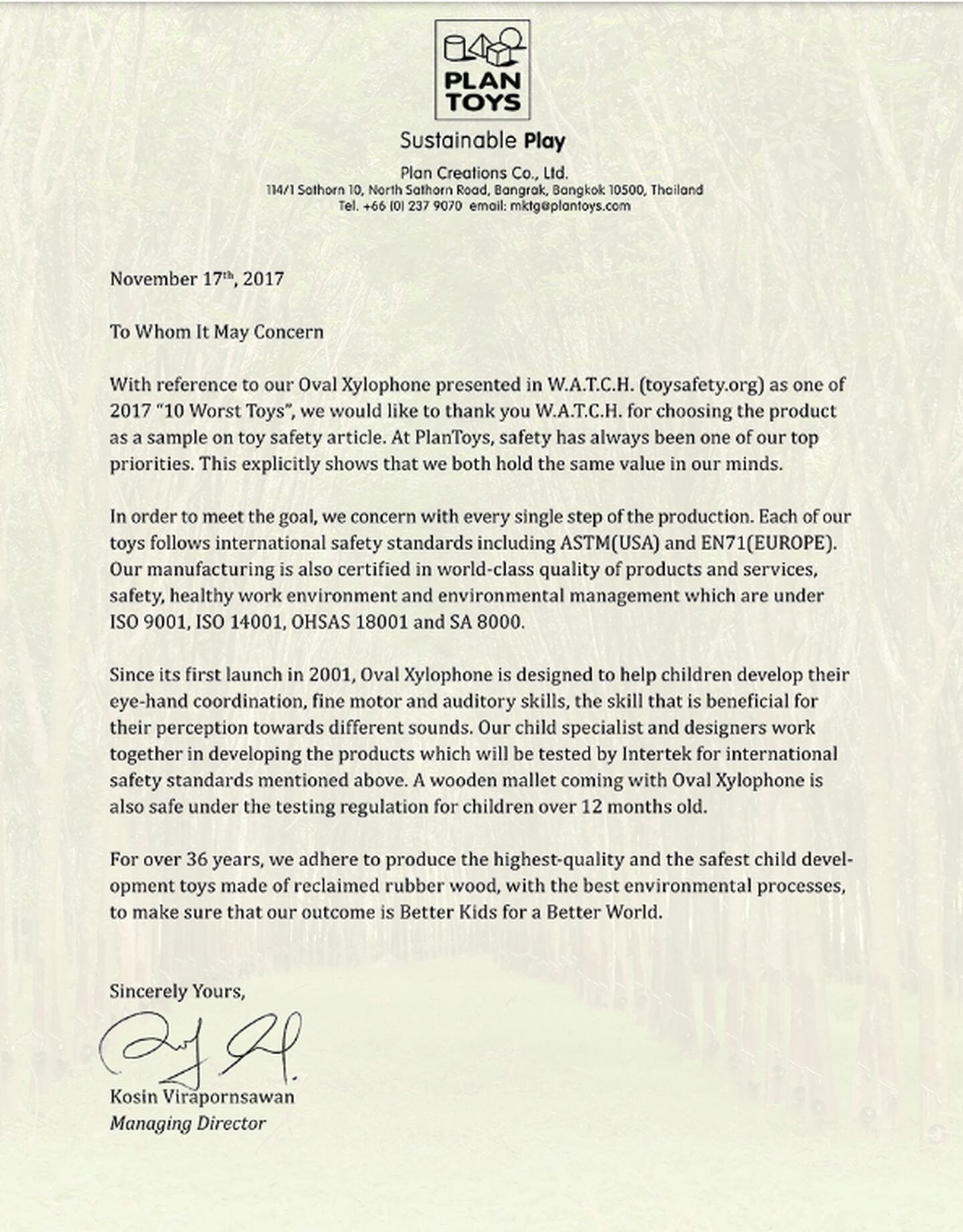 Trending Now on FOX23
Trending Video
Cox Media Group